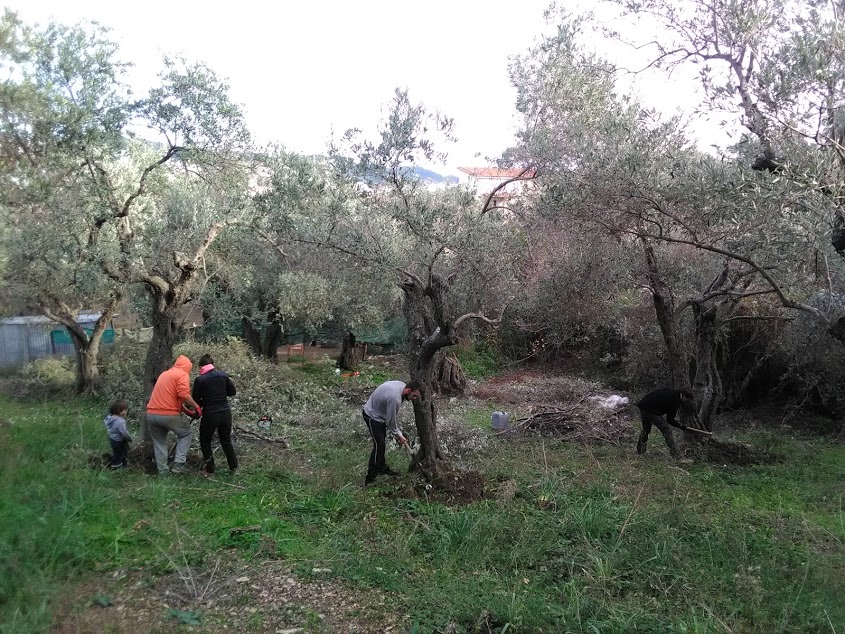 When ? We did it in January, it is a good time for the olive trees. January is the month after the harvesting olives, and during this month, in winter, we can see the dead branches and cut them.
How ? There are different steps
Observation
as in permaculture, taking good care of the trees means you have to understand how it works, how the energy from the soil and from the trunk goes to the last leaves at the top of the tree, how it grows, how it gets week.
Olive oil objective
Little / if you want to collect the olives, these fruit shouldn't be to far from the ground ! So you need the tree to stay little, and its branch to grow always horizontally ! If the branch goes to the sky, the olives will stay there.
Sunny / the olive trees need have access the light of the sun and breathe properly. That's why you also need to have no more then 3 or 4 big branches growing from the trunk. The light should be able to enter in the center of the tree.
Strong / the branches far from the trunk need to have energy and food, that's why you need to remove all the little branches that are growing above. They will take all the energy of the branches that will produce olives.
Healthy / never cut a lot of big branches the same year ! The tree is alive if you hurt it a little it will be for the best, and it will be even stronger after. But if you stress it too much it could be weak, and even die. So you need to have plan for your tree for 2/3/4 years if it shape needs to be fully redefined. You can cut on big branch at a time.
Protected / when you cut a big branch you need to put a kind of protecting cream that will help the tree to heal Faster. You don't need to put it on little branches.
Cleaning
You need to clean the areas around the trees, so you can see if there is still something to cut or not.
We advice you to have a little chipper machine so you can use the grinding into your compost (only the branches if the leaves are too fresh) ! It will be a great carbon input.
How much ? If you do it by yourself it won't be expensive in long term. You have to invest on good machines and buy the paste to care the healing of the tree.
Materials :
Telescopic cutting tool
Chain saw
Electric shredder
Sequator
Protecting cream
How much time ? It depends of course how many trees you have to take care of and if it has ever been cut or not !
The good thing is from years to years it will be easier as you will have take good care of the trees !
Alone you will need at least 1 hour to take care of 1 big tree entirely (cut, healing, cleaning)