Dear everyone,
a couple weeks after the announcement of the first Youth Workers Mobility that will take place in our Kingdom in April-May, it is with Joy(ce), pride and excitement we can now confirm that the amazing Giuseppe Sannicandro will come one month later, in May-June for an unique Permaculture training, centered on the water management.
What ?
15 day Training ( co-financed by Erasmus+ ) "ReJoyce'ing Nature"
Who ?
For Youth Workers of any age living in Greece, France, Belgium, Italy, Romania, Malta or Bulgaria
Where?
On the magical mountain of the beautiful island of Skiathos, Greece, in our newborn farm, Joy'ce Kingdom
When ?
May 24th to June 07th 2022
(+ 2 Travel days before and 2 after if "Green" means of travel used, 1 Travel days before and 1 after in any other case )
Accomodation ?
Free camping style, in the nature, in tents for 5-8 persons, compost toilets, camping showers
How to arrive ?
We will encourage and help you (financially and practically) to travel in a green way. We will help you find the best way to arrive here and Erasmus+ will finance your way here for 2 days (per trip) if you travel in a sustainable way, for 1 day if you chose a less ecologic way. (More details to come)
What will happen ?
The Re-Joyce'ing Nature training course consists in a 15-day immersion experience in a multicultural group that will experience life in a secluded farm in the forest. It will take place in the island of Skiathos, Greece from May the 24th to June 07th 2022 (+ 2 Travel days before and 2 after if "Green" means of travel used, 1 Travel days before and 1 after in any other case ) and will gather 40 people (youth workers and leaders) from Greece, Italy, Romania, France, Bulgaria, Belgium and Malta.
These will be mostly members of the partner organisations and/or members of civil society organisations that run mobility projects dealing with permaculture, agroforestry or sustainable development, interested in developing social, cultural and ecological projects, intercultural education and youth participation in a nearby future. The age, gender and cultural context will be diverse and will depend on the country of origin, aiming nevertheless at maintaining gender equality if possible.
The training will allow participants to develop their knowledge of Permaculture design, water management, regenerative agriculture, successional agroforestry from a theoretical and practical point of view, develop their ecological literacy in an empowering way, strengthen their skills in facilitation, communication and mediation and develop their practical intelligence (know-how), their critical spirit and their sense of initiative. The impact will also be very big for the organisations the participants are involved in but also the youngsters they have in their groups as their youth workers will come back full of ideas and motivation, ready to disseminate their new skills and let their organisations profit from the networking done during the training, surely the beginning of long lasting collaboration and friendship !
Some of the subjects we will discover together are :
The fundamental principles of Permaculture design, regenerative agriculture, successional agroforestry
Advanced concepts in science and technology developed by the permaculture curriculum from several scientific and practical backgrounds as topography, agriculture engineering, biology (soil biology, microbiology, botany), ecology, chemistry, climatic sciences, natural and hydraulic engineering, appropriate machinery etc.
How to design, prepare and plant different gardening methods
Several techniques of water management and how to design and implement them
Waste management techniques, including compost and natural fertilization
Wetland restoration strategies
Risk assessment strategies (fire, mudslides, flooding etc.)
The main difficulties encountered by project coordinators in the implementation of their project and the factors
contributing to their success
The interconnections between socio-economic and environmental issues and the labour market
The concept of ecological footprint and its challenges
Ways to make the transition from being dependent consumers to responsible citizens
Educational tools for citizenship / living together
A multitude of energizers and team-building activities
Methods and tools for: (1) group decision making (2) a fair division of tasks and responsibilities within a group (creation of commissions, setting up of roles, rotation of tasks …) (3) expressing oneself within the group, identifying the fears of the members of the collective, conflict prevention and management (peer exchange groups, circle of regulation, circle expression …) (4) recognition of learning outcomes and the evaluation of an action.
A lot of intercultural moments will be shared as the participants and 2 days will be dedicated to connect with local nature (with an excursion to the beach while foraging plants in the forest) and to the local community (with a party).
Who is the trainer/facilitator ?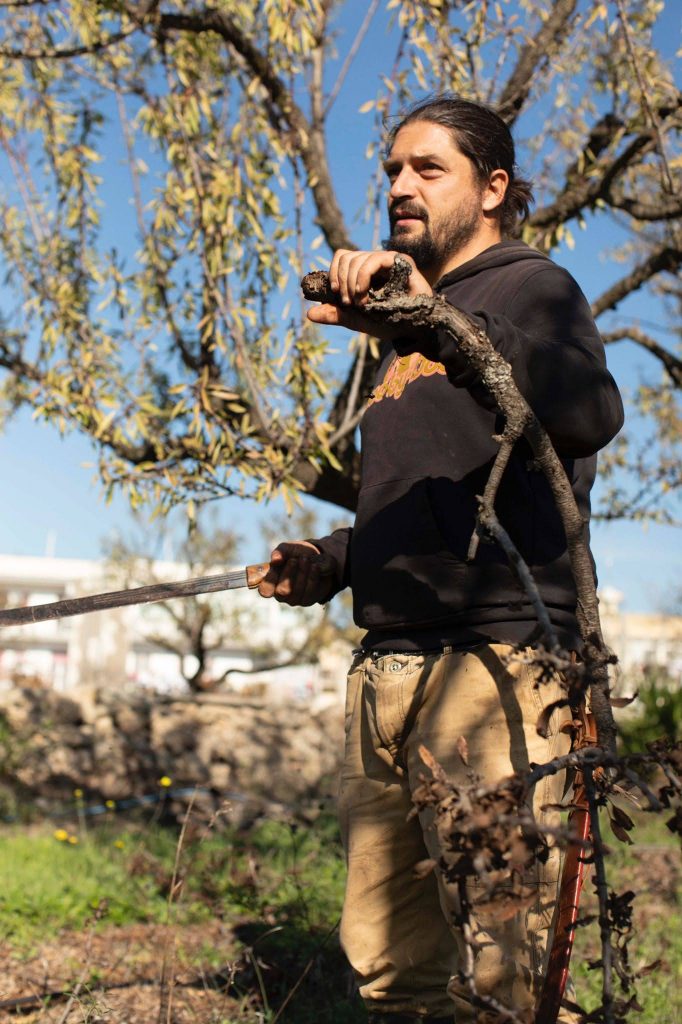 The principal facilitator for this training will be Giuseppe Sannicandro (Italy), co-founder of Naumanni Association, Regen
Association and tutor for Permaculture Diploma, recognized by the Italian Permaculture Academy (Accademia Italiana di
Permacultura).
He graduated in Philosophy with a thesis about the De-growth Movement and one about Ecology, and he
obtained a Degree in Permaculture Design in Tenerife in 2015. Since 2012 he studies, designs and teaches Permaculture
in Italy, Greece, Switzerland, Slovenia, Spain, Uganda and Brasil. He designs and offers consultancies for multifunctional
farms, eco-villages and urban permaculture projects among others. Moreover, he organizes and teaches PDCs (certified
72 hour Permaculture Design Course), as well as courses and workshops about water management, key-line design,
earthworks, soil improvement, regenerative agriculture, gardening, agroforestry and food forest.
Who is part of the consortium?
Greek participants will be selected by and represent two organisations, Joyce 'n' Fun and Southern Lights.
Belgian participants will be selected by and represent Les débris-colleurs . Degré 47
French participants will be selected by and represent sChOoL🤸‍ with OuT frOnTiers!⛵️
Romanian participants will be selected by and represent Se Poate
Italian participants will be selected by and represent Regen
Bulgarian participants will be selected by and represent WalkTogether
Maltese participants will be selected by and represent ACT
How much does it cost ?
The training is co-funded by the Erasmus+ program of the European Union, giving you the opportunity to come for a symbolic 150€
How do I apply ?
By filling THIS FORM before the 15th of April.
What about the kids ?
Participants have to be over 18 years old but if you want to come with your child, sibling, cousin or friend who is under 18, let us know in your application and we will find the best way to make it happen!